Conferences and Competitions
If you are a student and would like to participate in a
Conference or Competition in Canada or Internationally
that relates to your academic program at Centennial College we may be able to provide you with 60-80% bursary for the total travel funding to attend!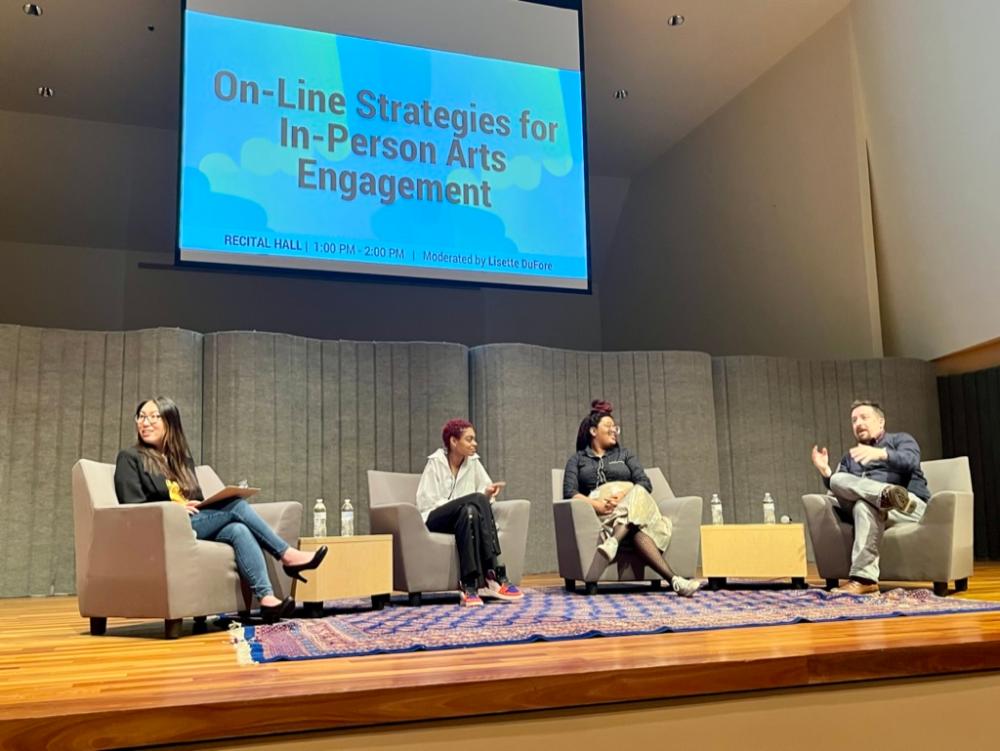 (Emerging Arts Conference - Washington DC, March 2023)
Timelines:
In order to be considered we need your "APPLICATION PACKAGE" (outlined below)
emailed to sage@centennialcollege.ca
at least 2 months
from the conference or competition start date.

Application Package:
Statement of Intent (or Video Response) - Please write a 500 word Letter of Interest (or a 5 minute introductory video) that responds to ALL aspects of this prompt: What is this Competition or Conference about (it's main themes) and how will it support your a) Academic, b) Professional and c) Personal goals. What you will bring back in terms of learning and how will you share it with others in your program (Presentation, Blog, Case study, References and Resources list, sharing info with professor etc.) How will being in the country or region or among a group of people from all over the world at the competition/conference help you to develop a global mind-set and perspective that will enrich your academic journey?
A link to the conference website with all the details including cost, timeline for the event etc. Should the conference/competition happen over the summer when you are not actively in classes please indicate this in your email.
A written and emailed reference from a professor of one of the courses verifying how participation will support your academic goals and indicating why YOU should be chosen.
A proposed budget that includes: airfare costs, hotel/accommodation costs, meal costs for the days of the conference. (We will aim to fly you out the night before and the day the conference/competitions ends).
Any Invitation letter you have received to invite you to participate (usually applies more to Competitions)

Eligibility Considerations:
General Eligibility
Applicants are responsible for ensuring they meet the following requirements for participation:
Must have no outstanding fees on student accounts or behavioural contracts on file with Centennial's Student Experience Office, or Safety and Security Office
Must attend all pre-departure, in-country and post-return sessions and activities
Academic Requirements
Must be a full-time Centennial student in at least their second academic semester when the Conference or Competition takes place
Must maintain a solid academic performance with minimum GPA of 3.0
Must NOT be graduating before April
Visas & Immigration Requirements**
Students will require a valid passport with at least 6 months validity from the end date of the conference or competition
Depending on citizenship, a visa or study permit may be required to participate
Students must able to obtain the necessary travel documentation required for this program and must prove that they can travel before a Bursary can be granted.
Students with a study permit must have at least 4 months left on their permit.
*NOTE ON USA BASED COMPETITIONS - there is a huge wait time for B1/B2 Visas - it can take upwards of 15 months to get the appointment needed so anyone without a B1/B2 who needs one will not be granted a bursary for their proposal if they do not have the visa already.
** If you REQUIRE a visa to attend the conference you must contact the consulate and verify the amount of time it will take to receive the visa BEFORE you make the proposal. Please email us the results of that conversation.
Medical Requirements
Must be fit and deemed healthy enough to travel by a doctor
Must visit a doctor to discuss vaccinations and ensure immunizations are current and up to date
Must be fully vaccinated against COVID-19
Language Requirements
Knowledge of the relevant regional language (e.g. German, Spanish, French, Korean) would be helpful, but is not required.
There can often also be additional academic eligibility criteria as well depending on the nature of the conference or competition.
Once this application is submitted the Global Experience Team will consider your proposal for funding (within in 2 weeks), and will provide pre-departure and post-return support.