Outbound Exchange Program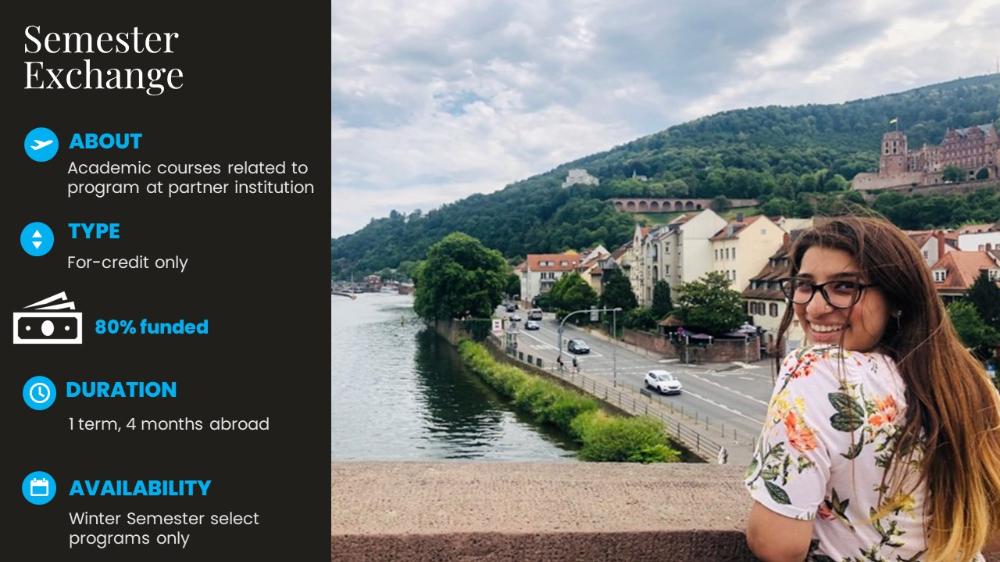 An Outbound Exchange program allows students to spend one semester studying abroad at one of Centennial's partner institutions around the world. Students will take courses that are relevant to their academic program at Centennial in order to earn credits upon successful completion at the host institution.

Not all programs have opportunities for Outbound Exchange as a lot of planning and coordination go into making sure the partner institution has an aligned model route and sufficient courses taught in English to make up a full time course load that will be accepted at Centennial College. The planning for an Outbound Exchange can take between 8 months to a year to build.

For the 23/24 year we have had open Semester exchanges for the following programs:
Early Childhood Education at Artevelde University College in Ghent, Belgium

Previous Semester Exchange Programs:
Mobile App Development, Software Engineering, or Biotechnology; Graphic Design; Marketing and International Business Programs - Business Academy Aarhus in Aarhus, Denmark

Business and Hospitality Programs - Centria University of Applied Sciences, Kokola, Finland

Graphic Design at KEA Copenhagen School of Design and Technology, Copenhagen, Denmark

Accounting, Biotechnology, Business, Environment, Journalism, Mechanical Engineering, Tourism at Jeju National University, Jeju Island, South Korea

If you are a FACULTY looking to build an exchange program for your program. Please contact the Global Experience Team to begin the process.

If you are a STUDENT looking to go on an exchange program in your 2nd semester or beyond please email sage@centennialcollege.ca.